The Maryan Mehlhorn collection is shaped by currents and trends from diverse cultures, and features a remarkable range of ethnic inspiration. In-house created, exclusive prints, as well as skillful handicrafts like beads and embroidery motifs lend utmost sophistication to these imaginative tribal designs.
The colours join this feel and shine with warmth and lightness, as do skin attering pastels. The result is an exciting interplay between solid colours and designs.
The styles offer a variety of forms, and create exclusive highlights with key pieces such as a high waist bikini or low-plunge swimsuit.
Art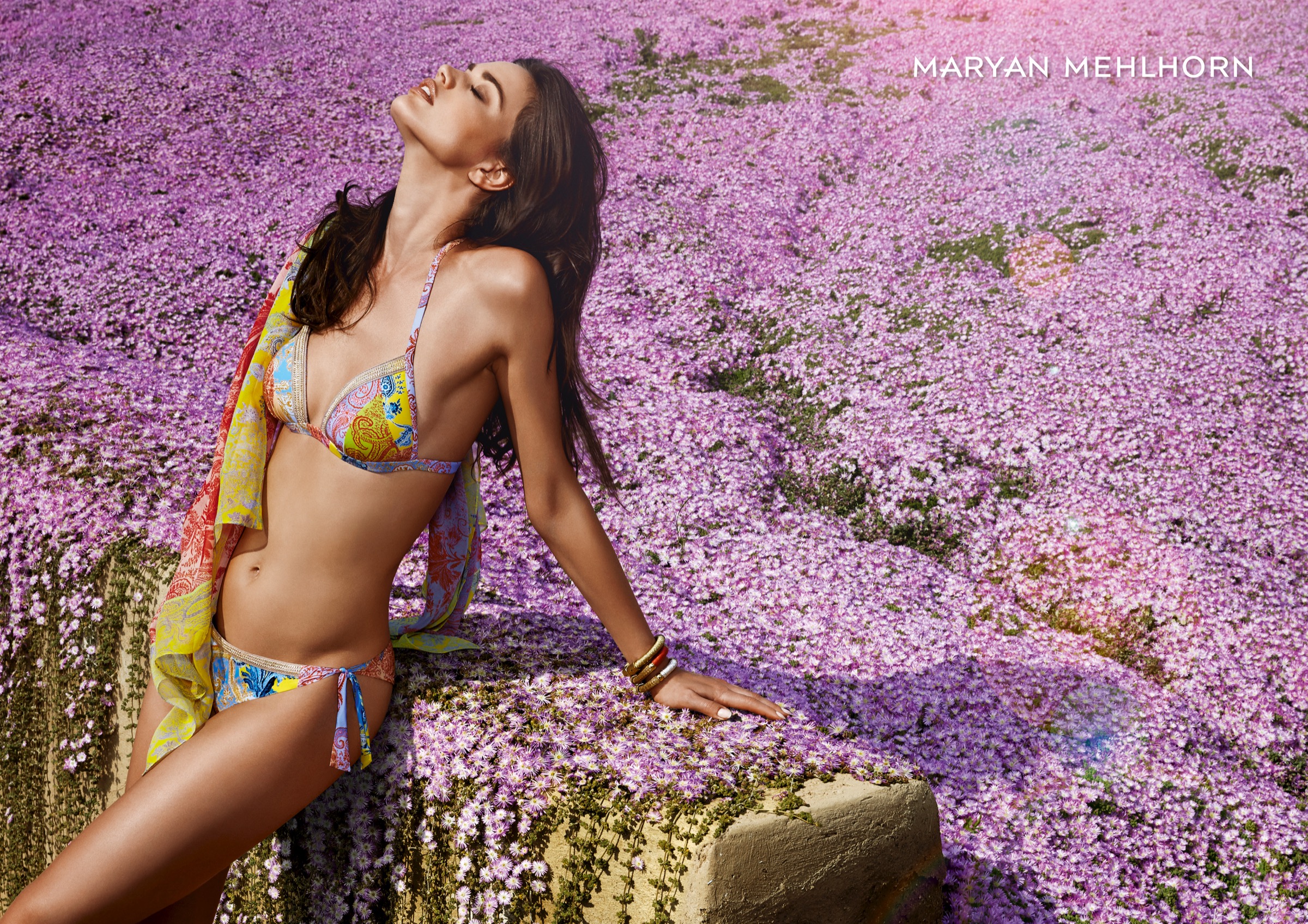 This striking new patchwork print with delicate paisley motifs acquires its exceptional noblesse through a combination of pastel and soft yellow porcelain shades. Lavender inspired areas are dominating the look and are accentuated by a brand new type of ribbon with delicate weave-in gold chains. This creates edge ornamentation and puts the spotlight on a feminine, low-plunge swimsuit. Variants of this design group are worked with a decora- tive pendant element at centre front or some styles even without any metallic accents which offers more simplicity.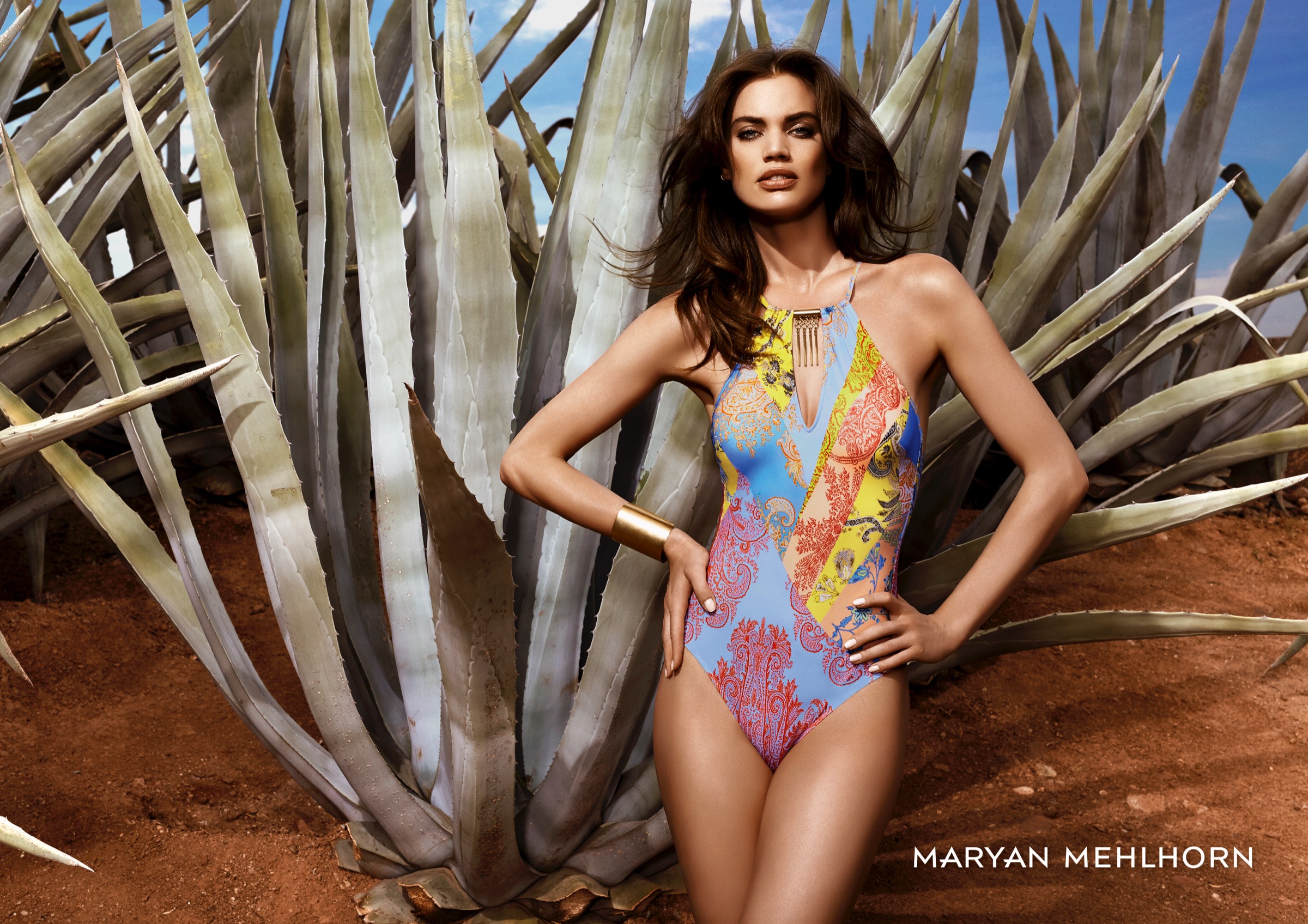 Accessories: The print motif of this design group is reflected both in the crêpe-de-chine pareo, as well as the silk tunic with sewn on tucks. An ankle-length, slit spaghetti strap dress with incorporated bra cups, open-toe sandals with braided straps, and a ligree fan to be worn as a necklace complete the range of resort wear.
Atacama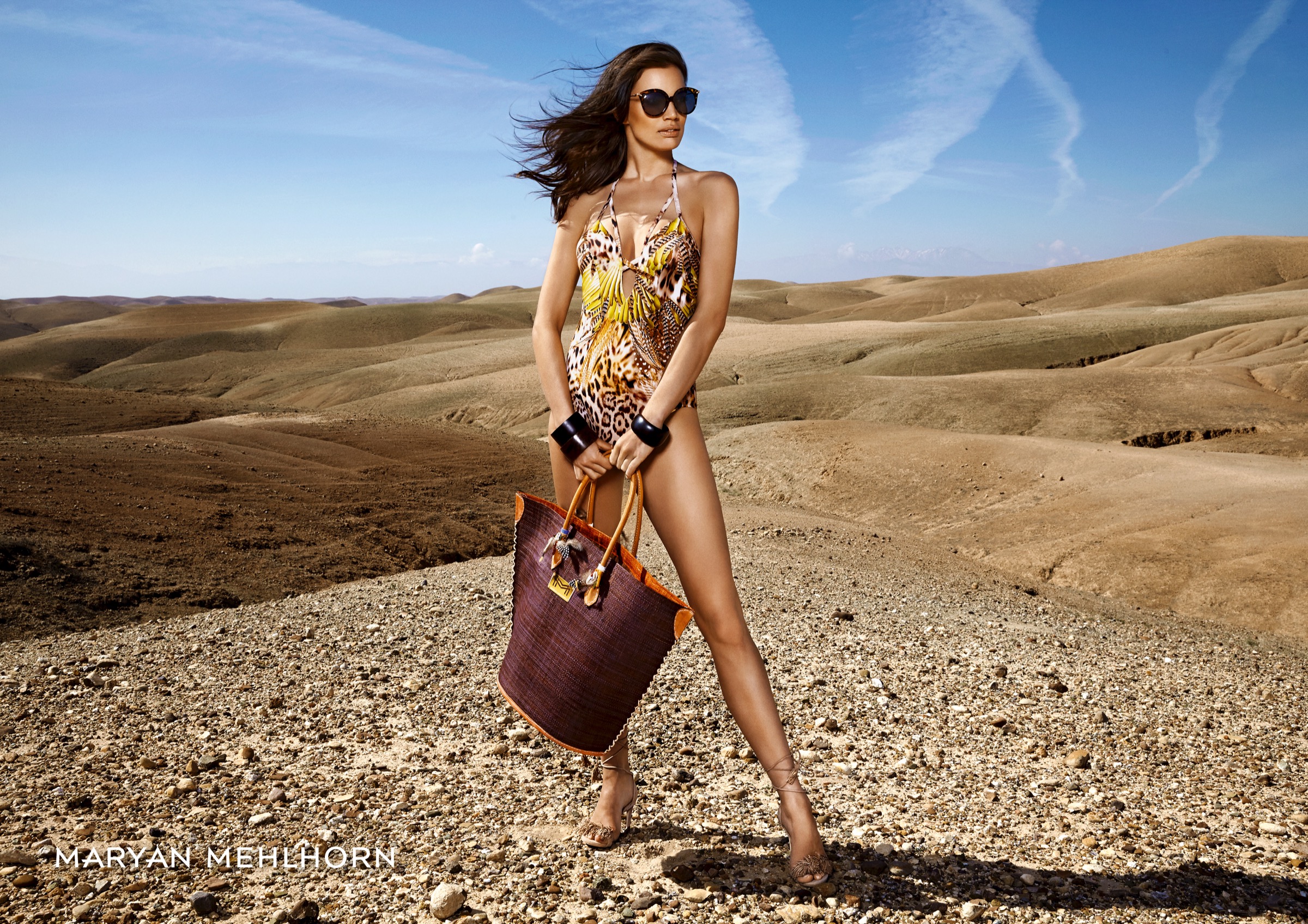 Delicate feathers and exotic animal prints create a fiery motif range. Their vibrant colors with accents of bordeaux, lavender and lime, as well as the variation of placement awake the spirit of adventure and passion for exotic places.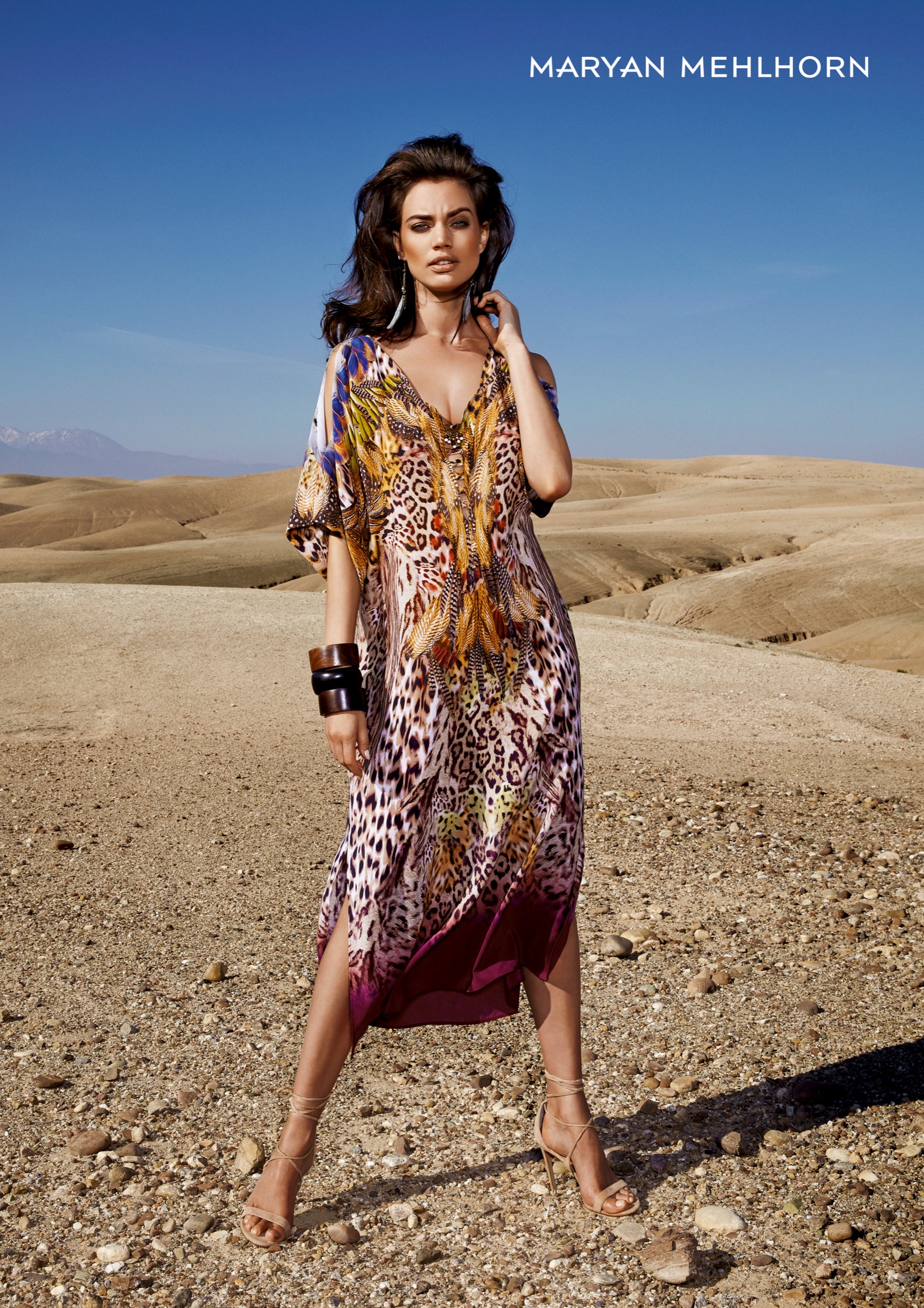 Accessories: A silk pareo features the ethnic colours of the series. The generously printed caftan with a low-cut neckline in mirror print ensures sexy shoulder accents. The casual tunic with all-over print features the feather motif along with an exciting hemline detail. The raffia bag, decorated with feather details, serves as a perfect beach companion.
Cruise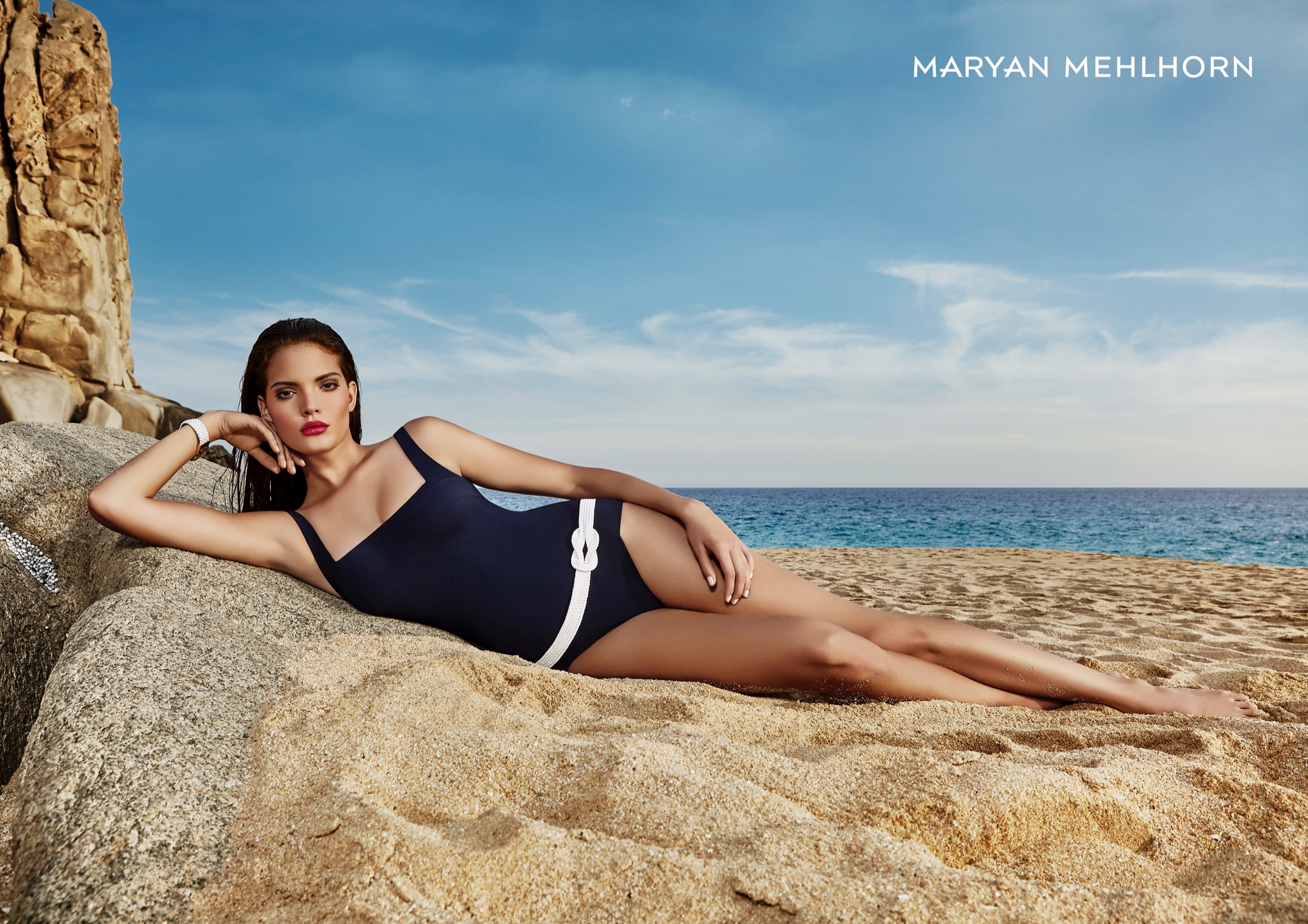 This yachting motif features nautical retro air. High-quality cords are painstakingly and skilfully woven into a sailor's knot, and used as a loose belt around the hips, and as decoration on the straps and neckline.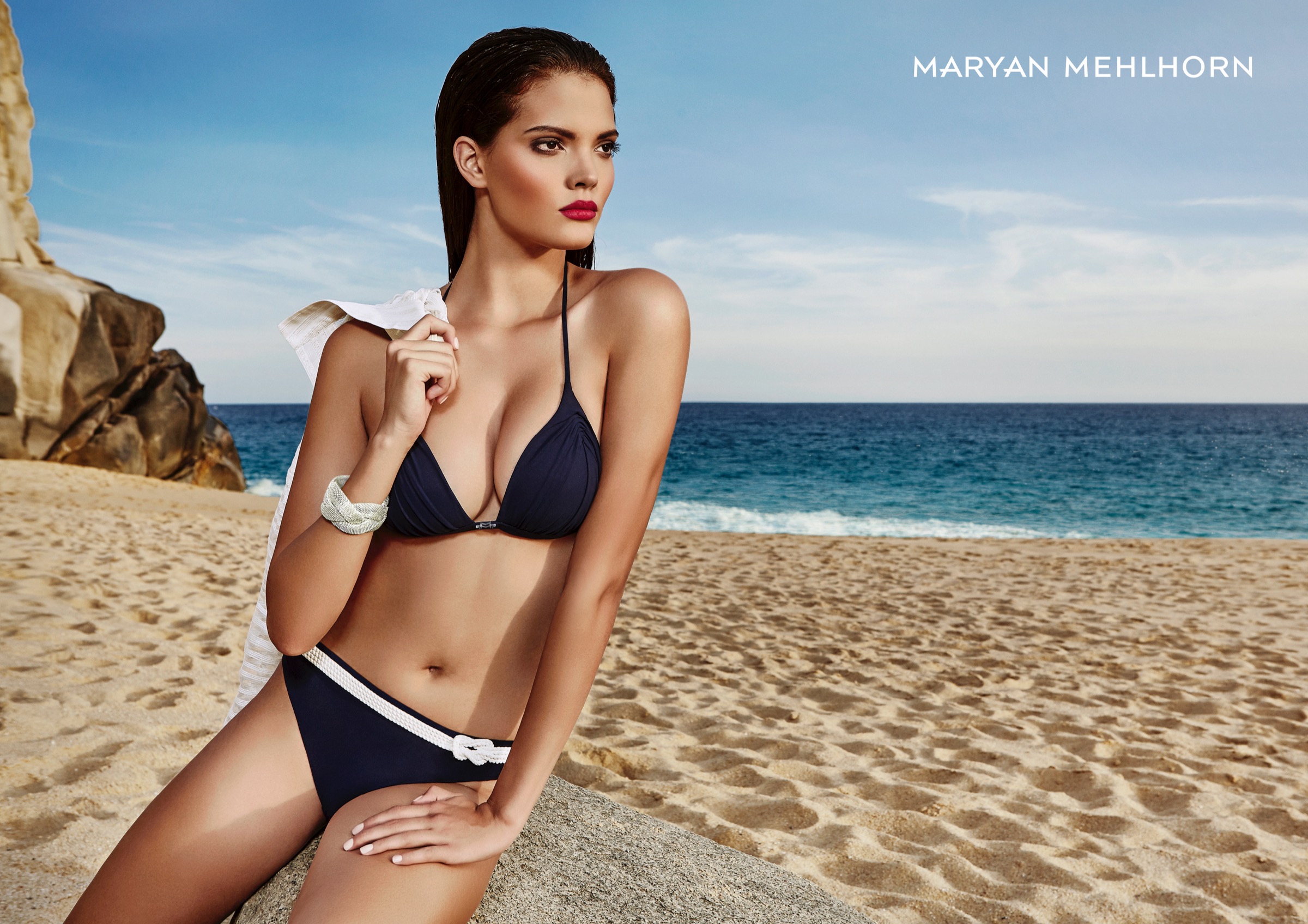 Accessories: This piece can be combined with the richly embroidered pin stripe tunic, and the printed silk pareo from the resort range.
Resort
The resort line's longline triangle bikini features a graceful striped pattern and silver lurex fabric in a minimalist, sporty design. The maritime stripes based on the rocaille line create a real sense of luxury – intensi ed by an elegant blue trim, and lavish red embroidery adorned by hand with red bugle beads and costume jewellery.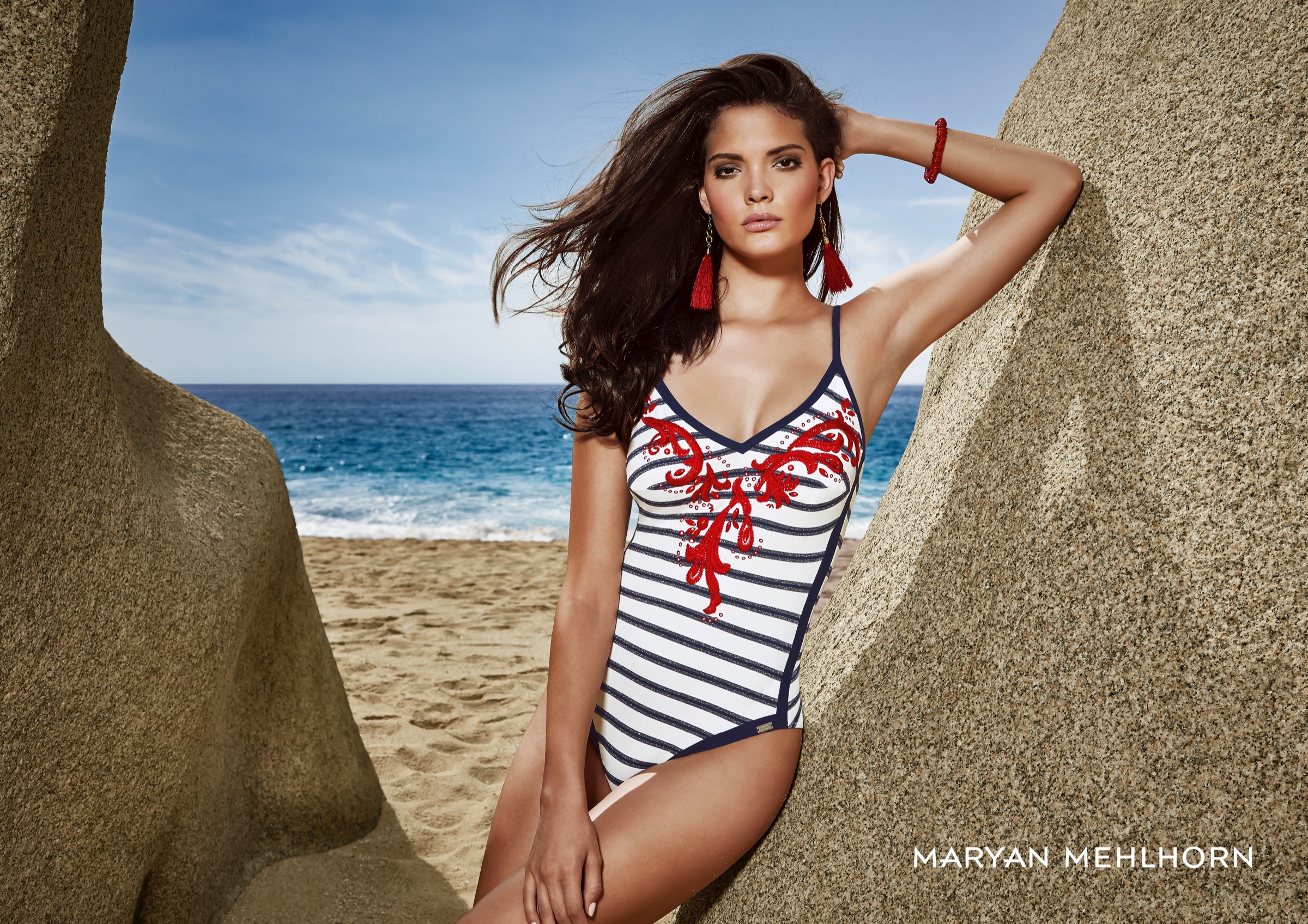 Accessories: A partially-transparent slimming white beach shirt in a clean and sporty design with block stripes. The short caftan with shirt collar is a casual, fashionable highlight. The marine pin stripes on a white background acquire their particularly noble look through a beautiful ornametal embroidery, which is also deco- rated with stick beads by hand. The silk pareo skilfully combines the stripe pattern with a yachting-inspired drawstring motif.
Reef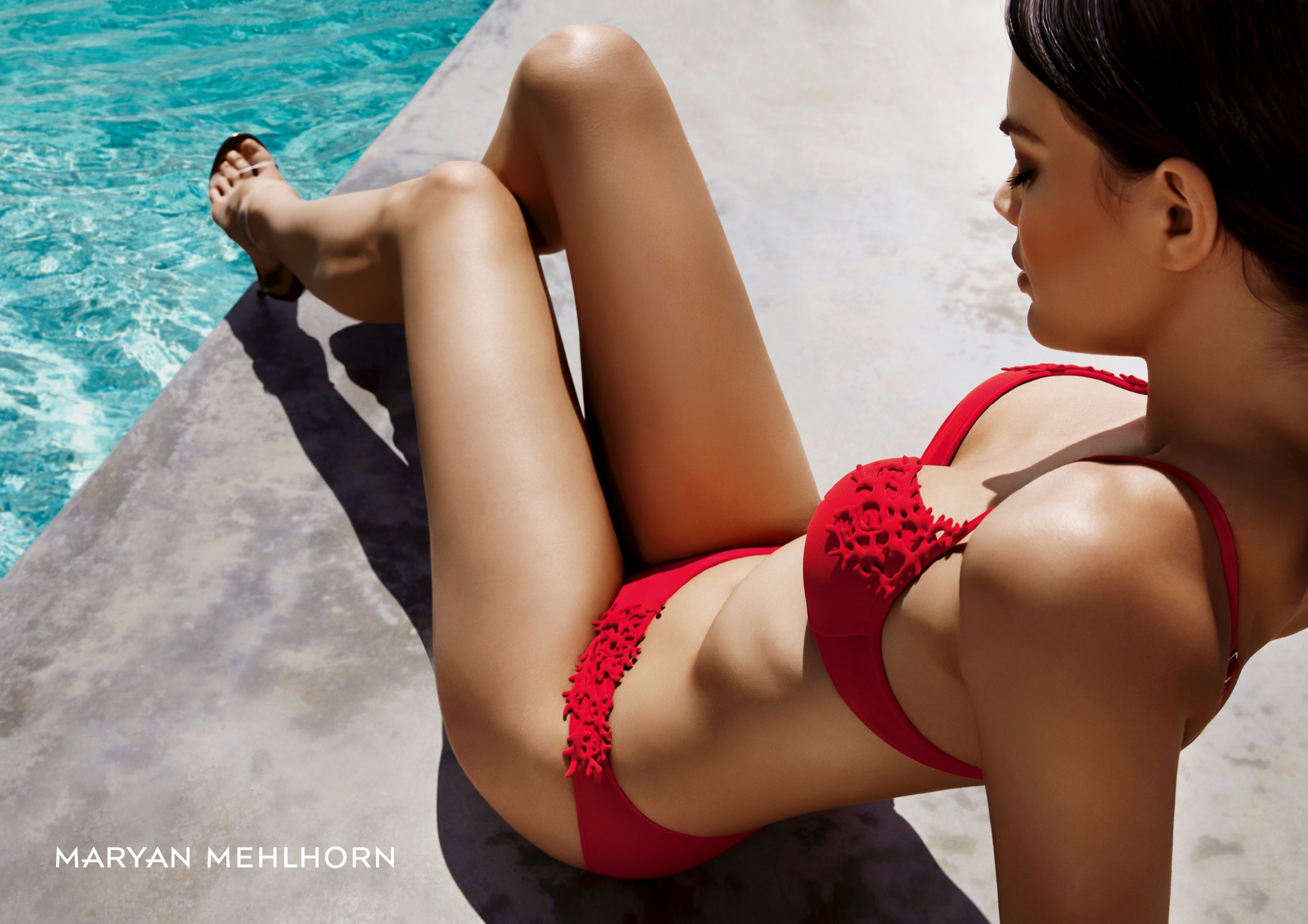 The source of inspiration are the magni cent coral reefs of tropical waters. This is visually translated using plastic coral motifs that are mounted as a 3D appliqué, either as a detail on the bikini, or as straps on the swimsuit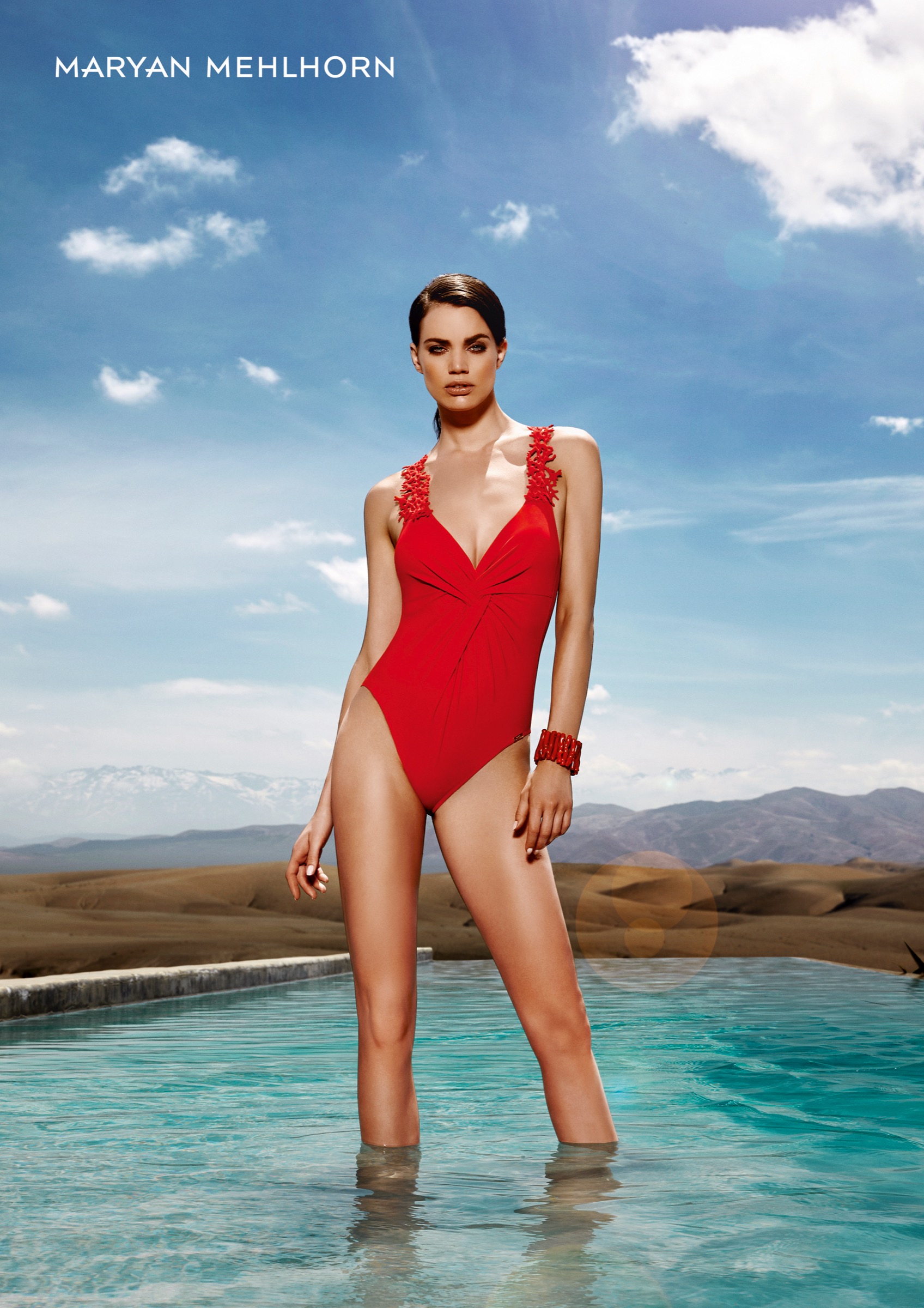 Accessories: Not only the richly embroidered stripe tunic is a highlight; also the silk georgette dress, with its shoulders accentu- ated by a coral embroidery. This series is accompanied by fine jewellery in coral looks: the bracelet and the necklace are made by hand from red or black beads.
Rocaille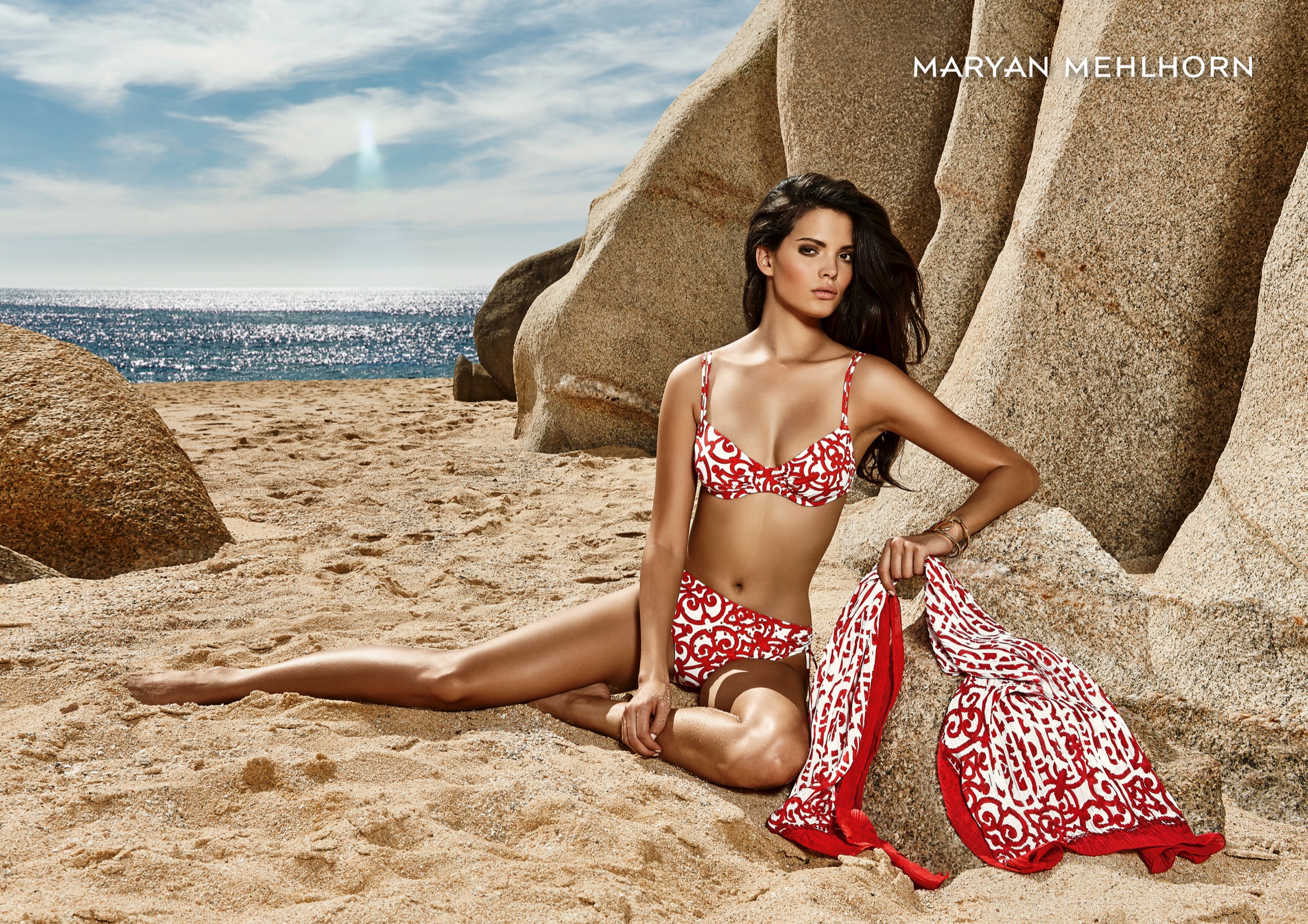 Rocaille features a stunning rococo-style print with shell-like forms brought to life against a pure white background. subtle colour gradations make the pattern appear 3-dimensional, and create a finne stuccowork effect on the soft, matt, satin micro bre material. This look is balanced out by the bikinis in simple, clean cuts – with designs adorned with small beads and gold thread.
Accessories: A jacquard tunic with small transparent sections takes the rocaille motif in plain white, and sets feminine accents with its swinging embroidered sleeves and hemline. A pareo features the same print design, but forms a nice contrast with a more abstract grid design.
Voyage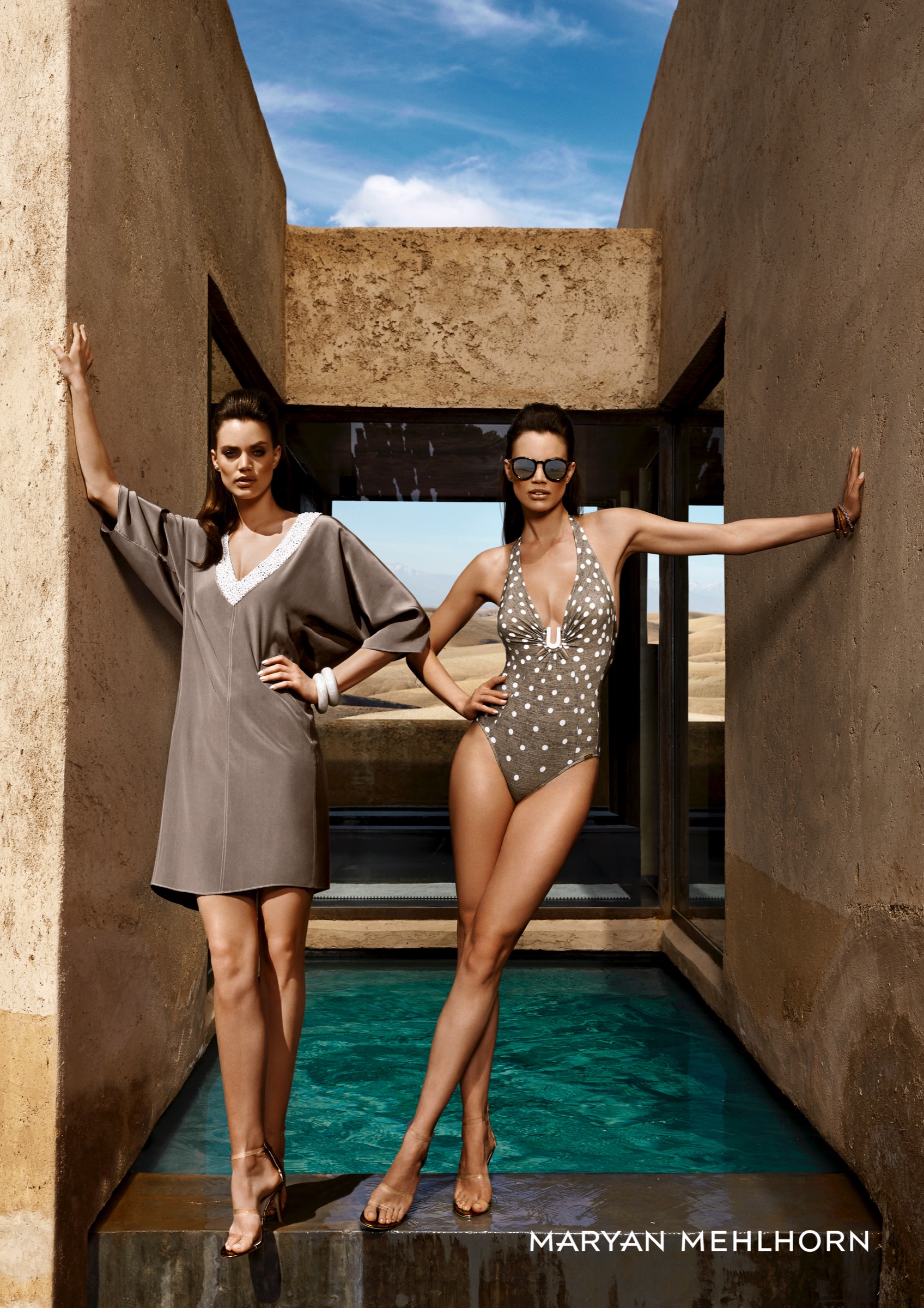 With this design group, Maryan Mehlhorn transfers the riviera-style of the 50s into the upcoming summer season, and gives it a highly fashionable feel with its purist nishing. The special element of this print, which mimics a linen texture, are irregular, delicately contoured polka dots. A breeze of coolness is added with white, simple jewellery pieces on the chest or as a cut-out at the waistband.
Accessories: A summer scarf with sequined polka dots and hand-knotted fringes pampers its owner with its silk-modal quality. Finest hand embroidery decorates the neckline of the elegant, oversize silk tunic in uni-coloured taupe.
Oasis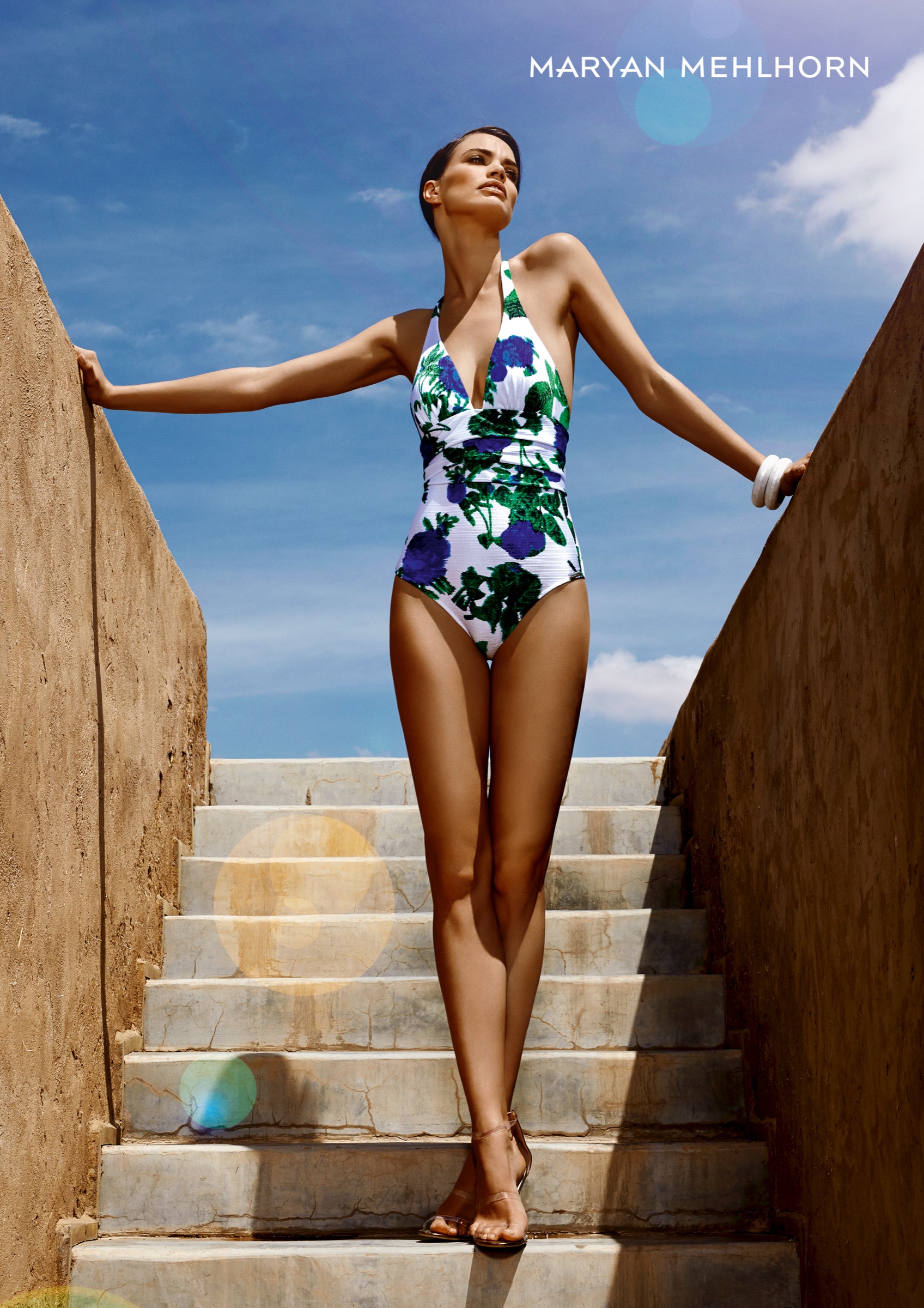 Pure Dolce Vita. The look is enhanced by high waist pant with zipper pattern, and bandeau bikini with a loose edge as key pieces. This analogy is also re ected in the fabric. A partially glossy fabric with a hint of shantung silk brings the 50s back to life. The oral look in bright blue and white supports this charming retro appearance.
Accessories: A printed pareo in new, softer polyester quality fascinates with its linen look. The tunic made of printed knitwear exudes summery lightness.
Bazar
Spices such as saffron, lavender, nutmeg, cardamom and cinnamon come together against a pastel mint-turquoise or vivid blue background. Print elements create a unique used effect reminiscent of ancient oriental wall tapestry.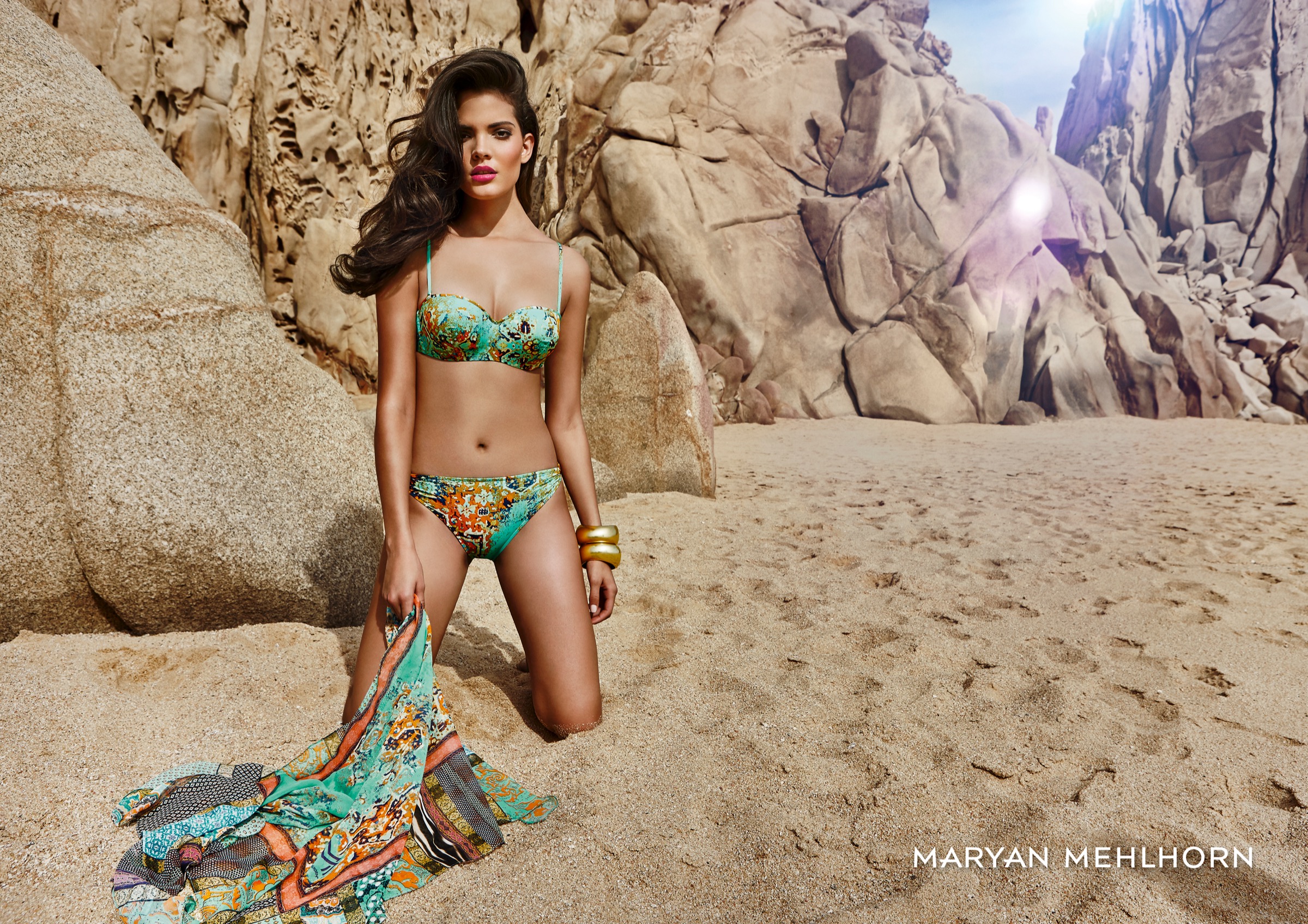 Accessories: The printed design on the kaftan is a real high- light. The pattern incorporates brocade, embroidery, lace as well as animal and foulard prints. The result? A stunning patchwork design that invokes the feeling of a moroccan bazar. A silk pareo in a mosaic style complements this exceptional series.
Safari / Ethnografica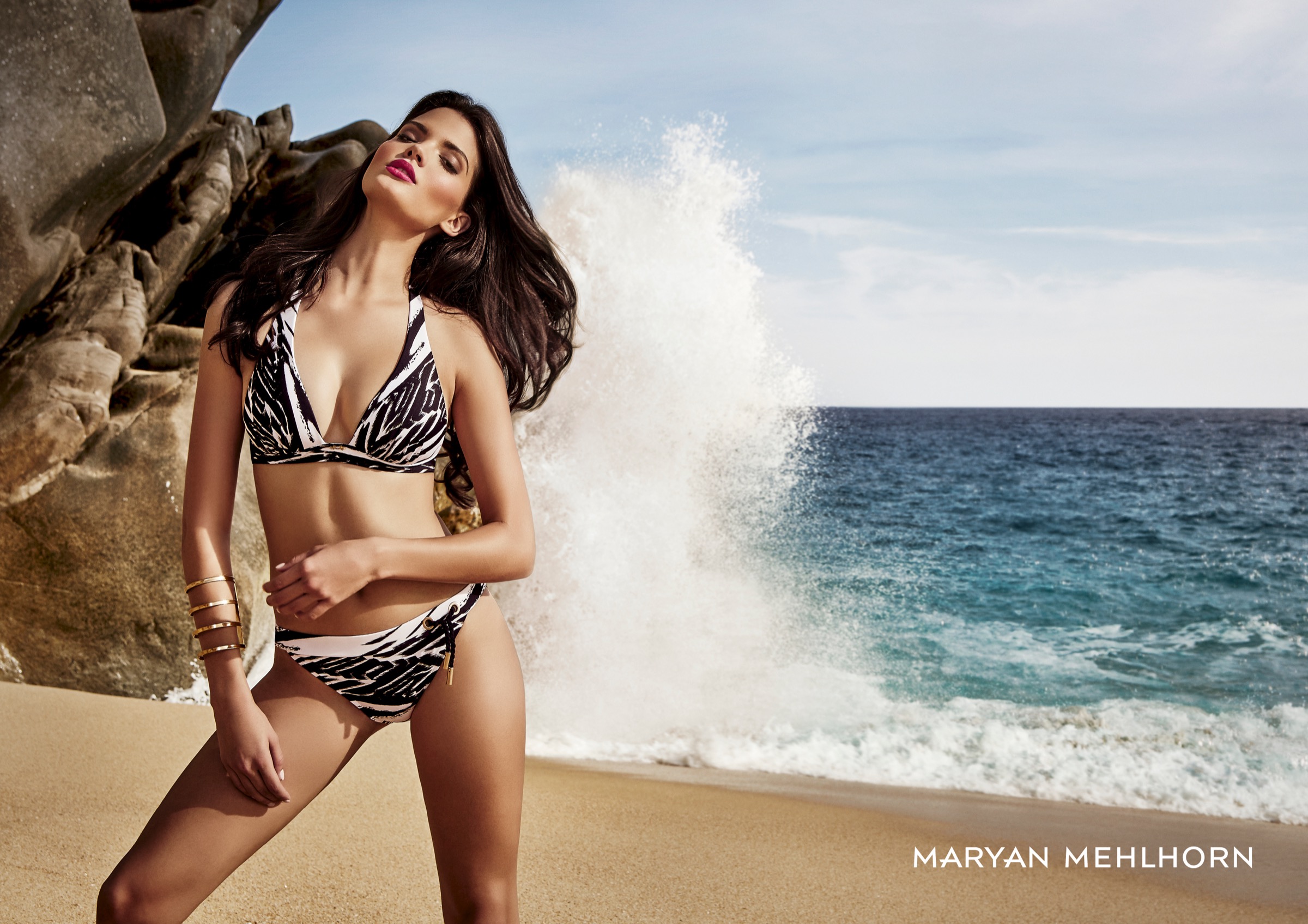 Safari adventures await with this striking contrast of modern black and white stripes against a colourful pattern uniting animal prints, baobab trees and the backdrop of the African savannah. Pale golden zippers add a contrasting sporty element. The new swimsuit with straps is a plain-coloured key piece in purist black, which is worth particular attention. It features poly carbon supports that are integrated in the cups, and offer a perfect t without wires. Ultra- light, they allow a daringly deep décolletage.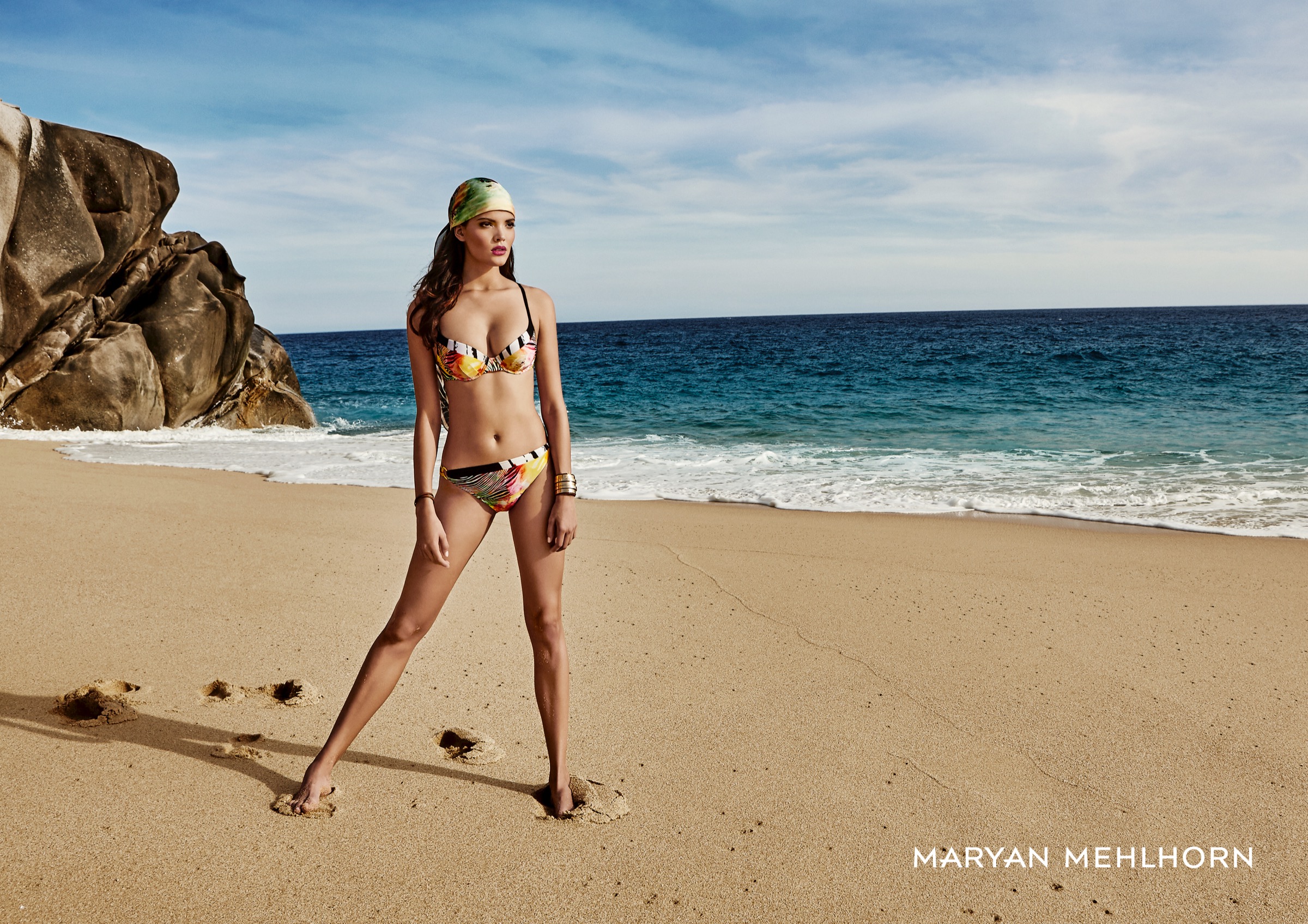 Accessories: The tribal look is repeated on a white tunic as a black print motif with decorative fringes. A silk pareo takes up the Afro theme, surrounding it with the black and white ethno pattern.
Elements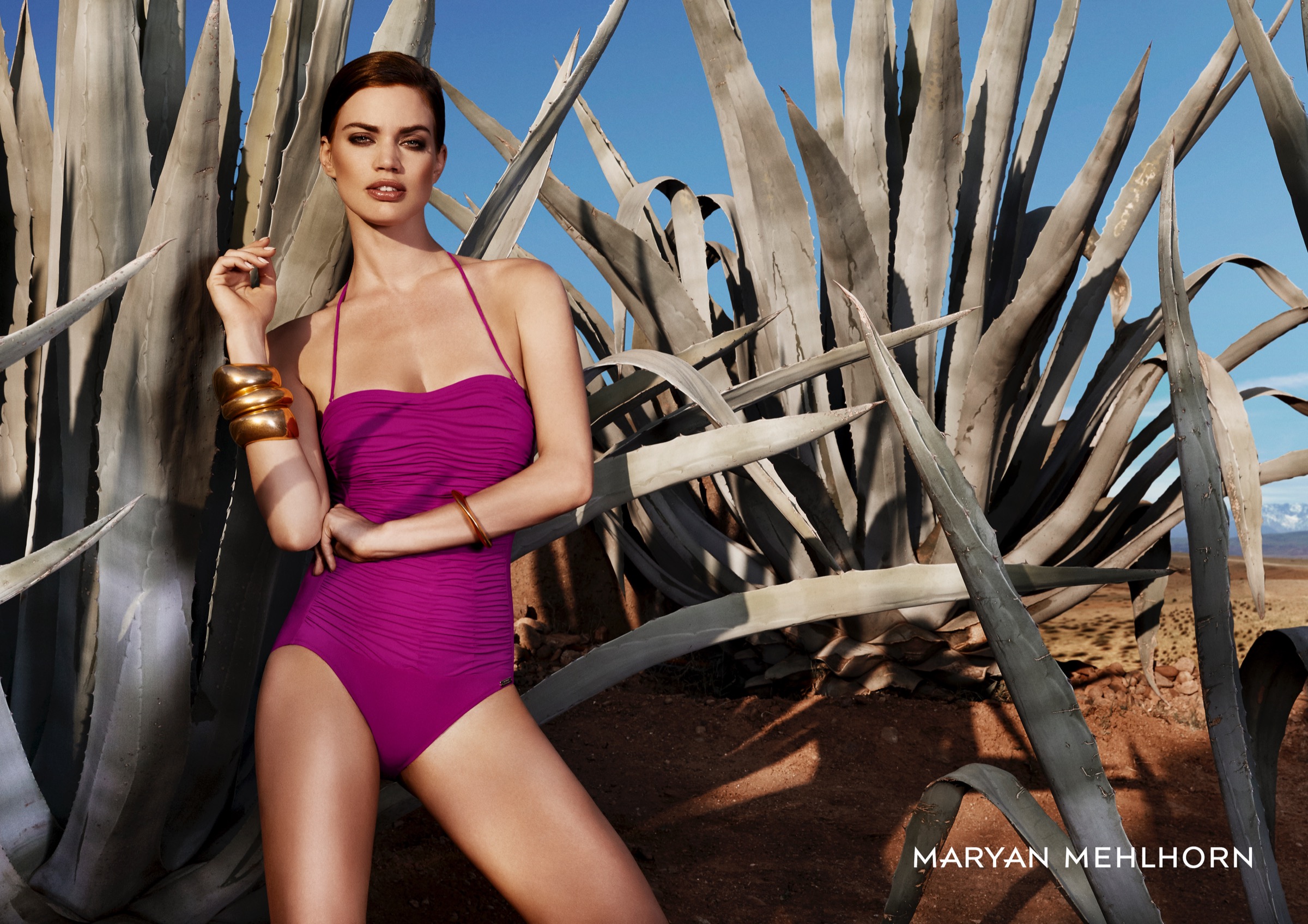 The mix & match trend is celebrating its debut at Maryan Melhorn! This new range of single-coloured designs features feminine patterns and lines. soft ruf es and innovative new production techniques guarantee the highest levels of comfort and a sleek, slimming look. The range will initially be released in the fashionable shades of iris and fuchsia – while black, as a basic elemental colour, will be making a comeback in the coming seasons as well.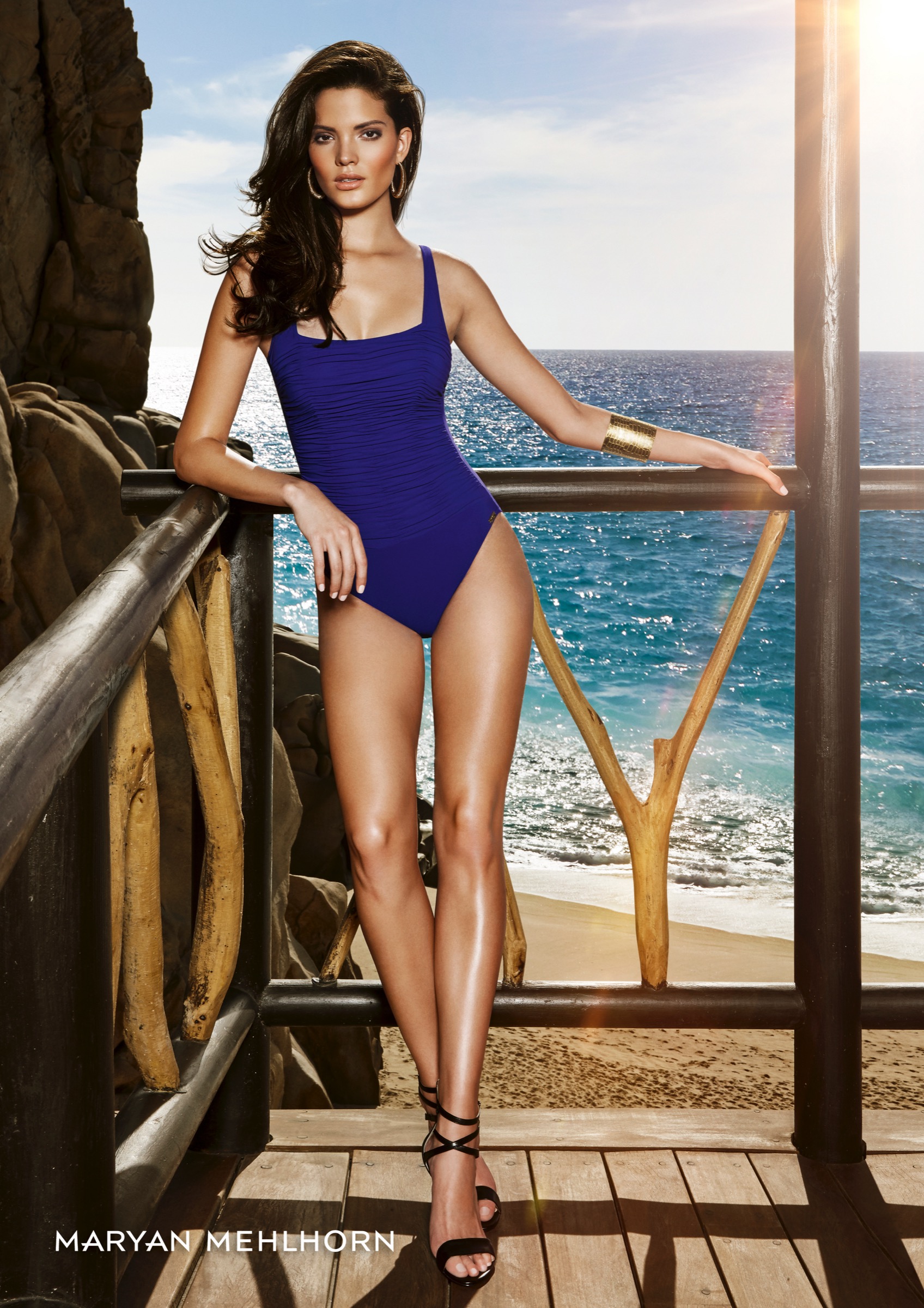 Accessories: An eye-catching viscose caftan bringing together graphic, animal and ethnic designs that can be combined with other items from across the different series. A knit summer tunic, sequinned and transparent at the hemline, sleeves and neckline.
Nomade
Bedouin stories from the past tell of exotic wildlife as valuable trade goods. Today, they return as exciting prints, and they are in this season as attering leopard motifs in the Nomad series. The vibrant interplay between light and dark and the plissee effect conjure an attractive silhouette, which is decorated with sexy strapping at the back or at the neckline.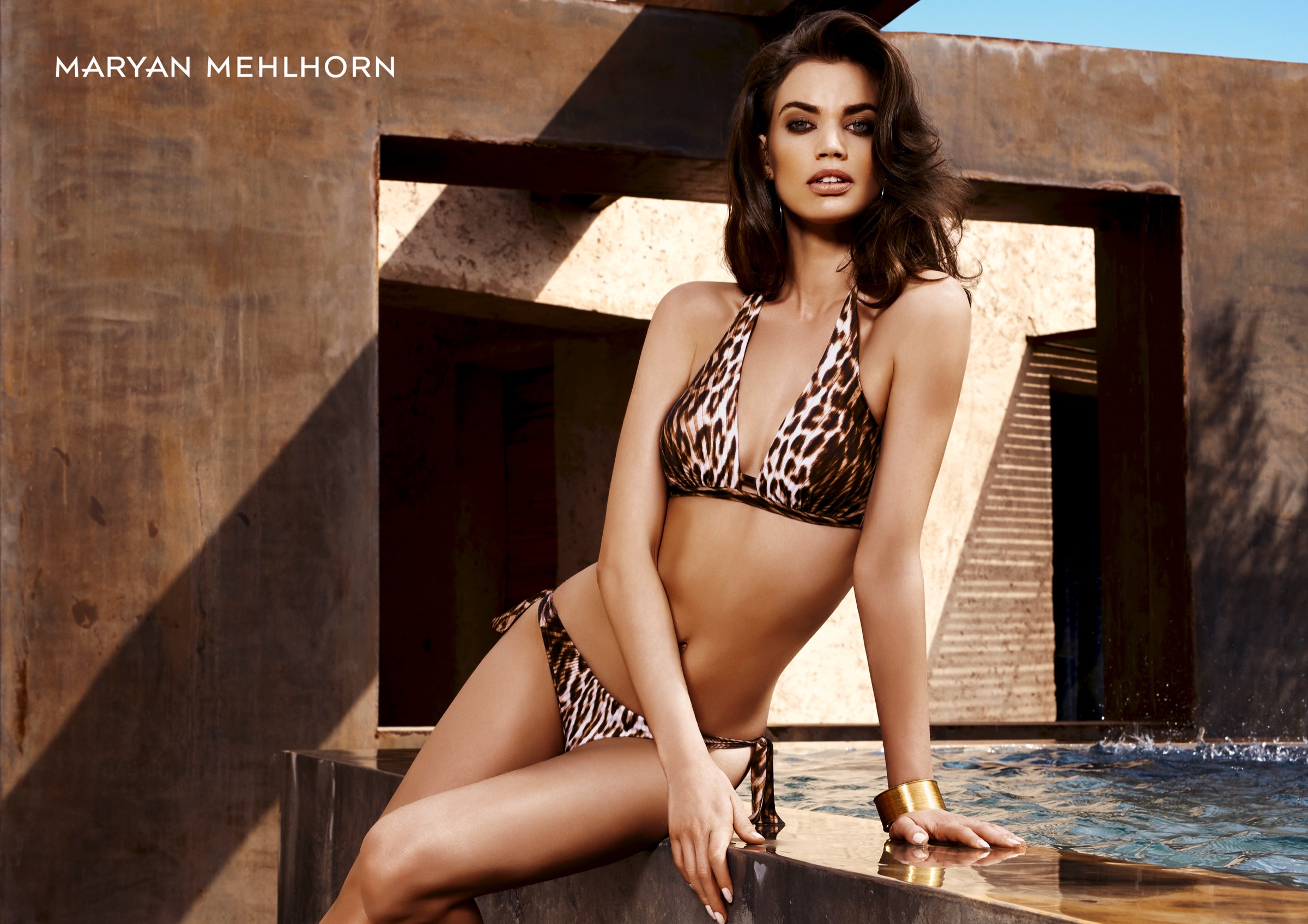 Accessories: The pareo seconds print motif in the form of rich animal and batik patchwork. The silk georgette tunic features an impressive and flattering print. Likewise, a sophisticated beach party dress captivates with a centred print on its sequinned fabric.
Jardin
The feminine oral design acquires a modern statement with plea- ted stripes in a matching colour on a coral background. The feminine touch of the series is emphasized by draping and gathers, which create the soft, feminine shapes of the styles.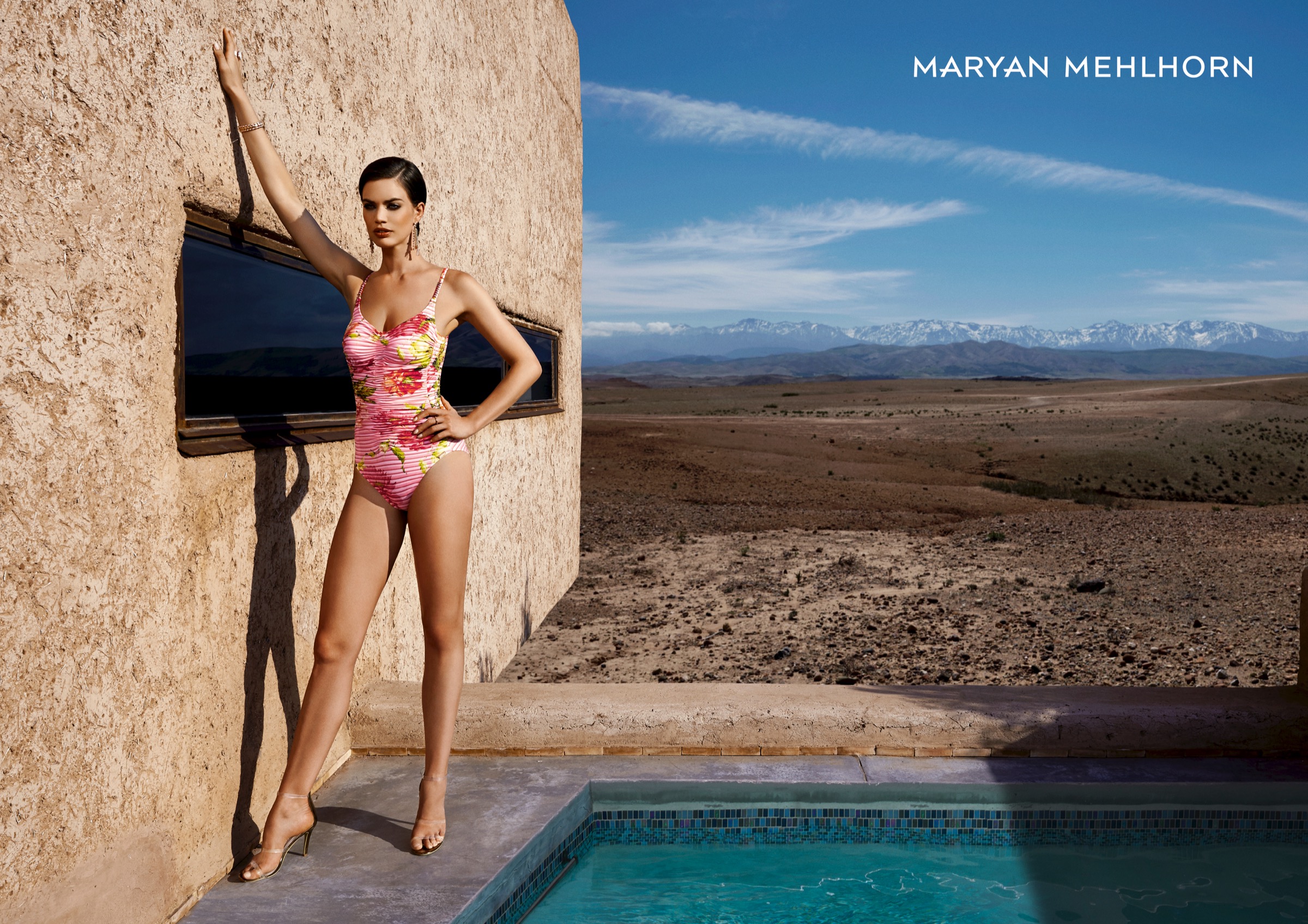 Accessories: The printed pareo and a slightly transparent, embroidered tulle shirt both shine with a flower-rich decoration. A noble, plain-coloured silk dress made of crêpe-de-chine can play the coveted role of a summer party outfit as a cocktail dress with precious, tonal maxi sequin embroidery.
Luxury
Elaborate, hand-made braided loops and maxi chains accentuate this luxurious, solid-coloured group, and enriches its styles with three-dimensional looks. feminine in cut and subtly ruffled in silhouette, the thrilling tones of its softly shimmering material serve to emphasise the elegance and luxury of this range.
Maroc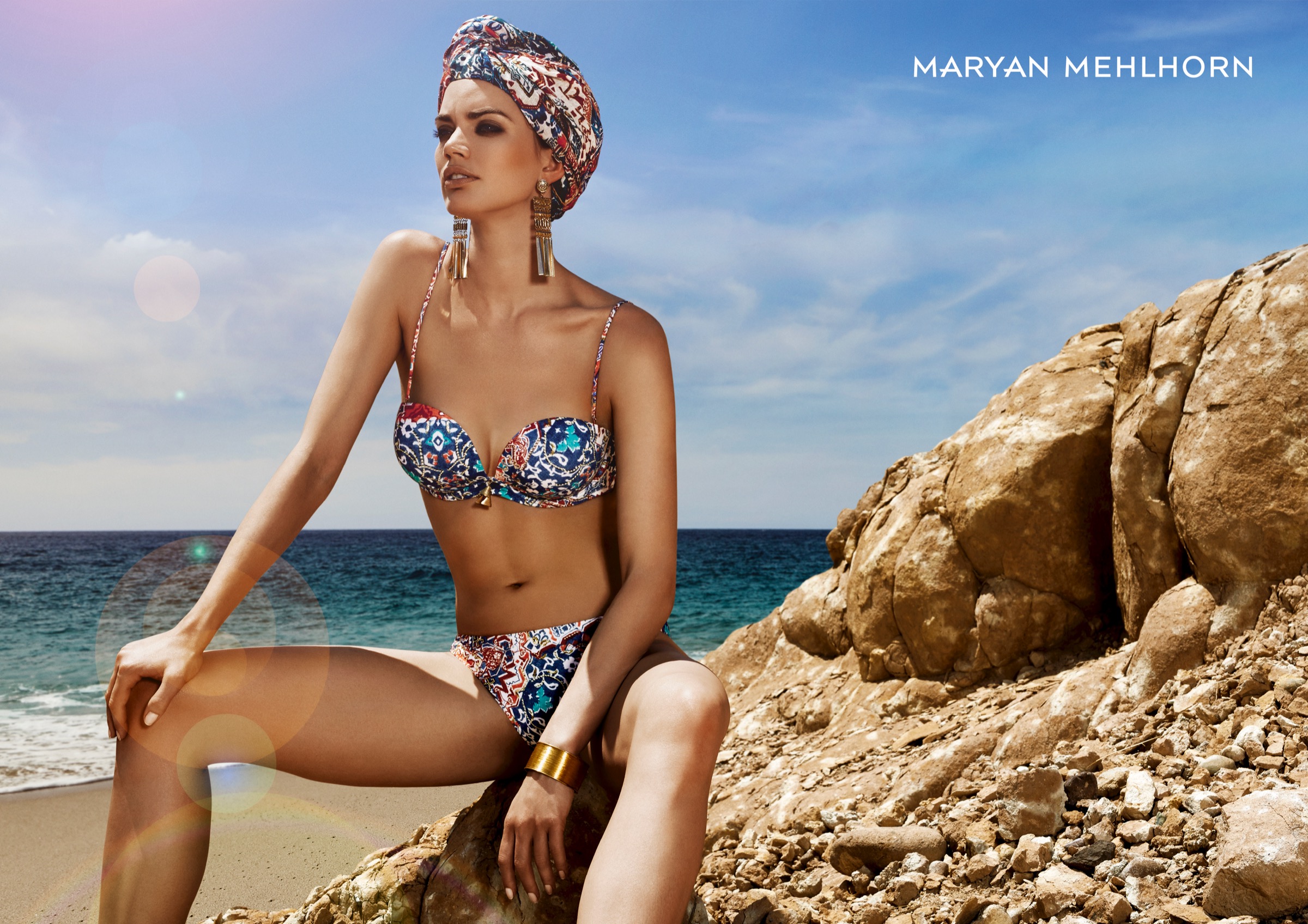 Influenced by oriental arabesque patterns, growing from an indigo base, the placed motifs of this design creates a luxury aspect on the back of the current denim trend. The forms of moroccan mosaics and tiles are overlaid with a rustic used look, which allows for a young and exciting interpretation of the design. stylish embroidery with metallic elements and pearls ennobles the maroc range, and makes it a fashion favourite.
Accessories: The pareo made of pure silk lends the design a calm and moderate touch. The truly eye-catching, printed linen tunic reveals its intricate pearl embroidery only at a second glance.
Rainforest
Strapping in focus! This must-have range comprises various pieces. A bold grid-style print with luminous tones of jade and pleat-like stripes is set against a jet-black background. Panties with a high-cut leg enhance the chic accents of the range, while the new triangle bikini, with its plunging, strap-bordered neckline and integrated wire-free carbon supports, offers shape-de ning support.
Accessories: The same print can be found on the soft, flowing silk georgette kaftan, where the shoulder area has a lighter tone thanks to its sequinned striped organza fabric. Handmade maxi loops decorate the tunic neckline in plain crêpe-de-chine. The palm leaf design also features on the printed silk georgette pareo.
Massai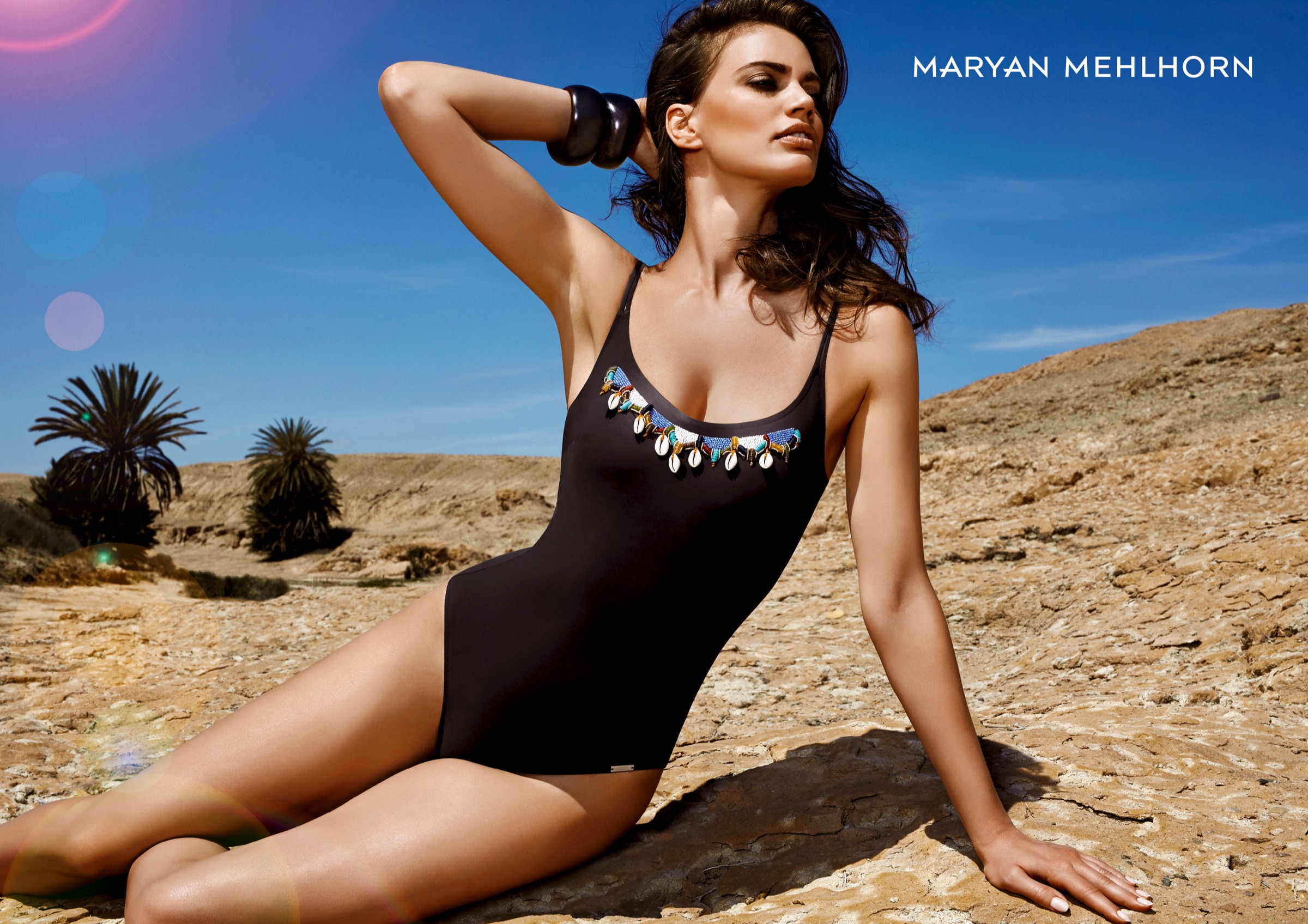 The second mix & match program of the Maryan Mehlhorn collection puts a magni cent embroidery of beads, cowries and mattesequinsinthespotlight.Thisprecioushandicraftisplacedon stylish "summer dark" colour. The one-piece swimsuit features this characteristic as a graceful embroidery on the neckline.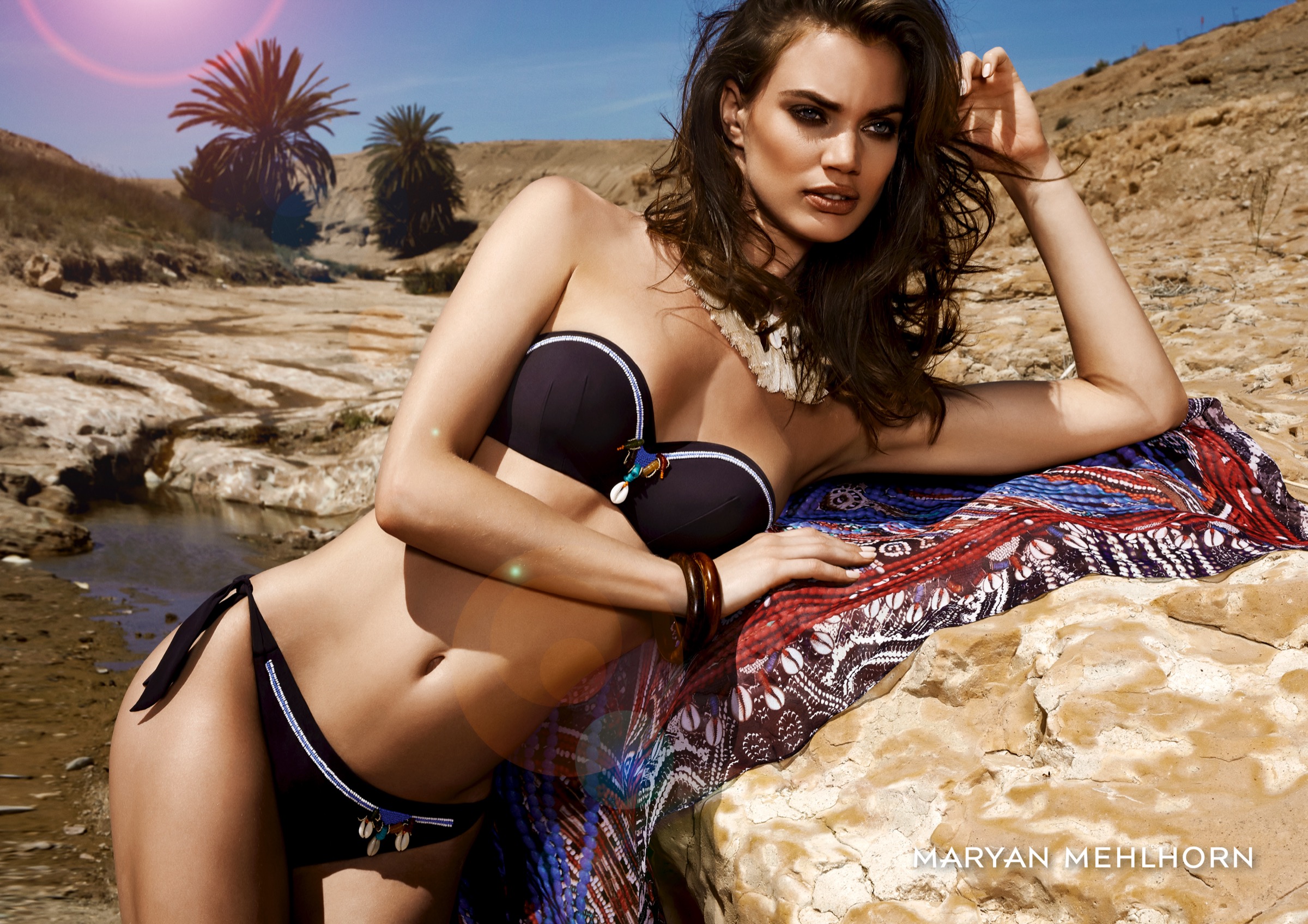 Accessories: The extensively printed silk pareo and a viscose caftan each interprete the embroidery as a print.
Softline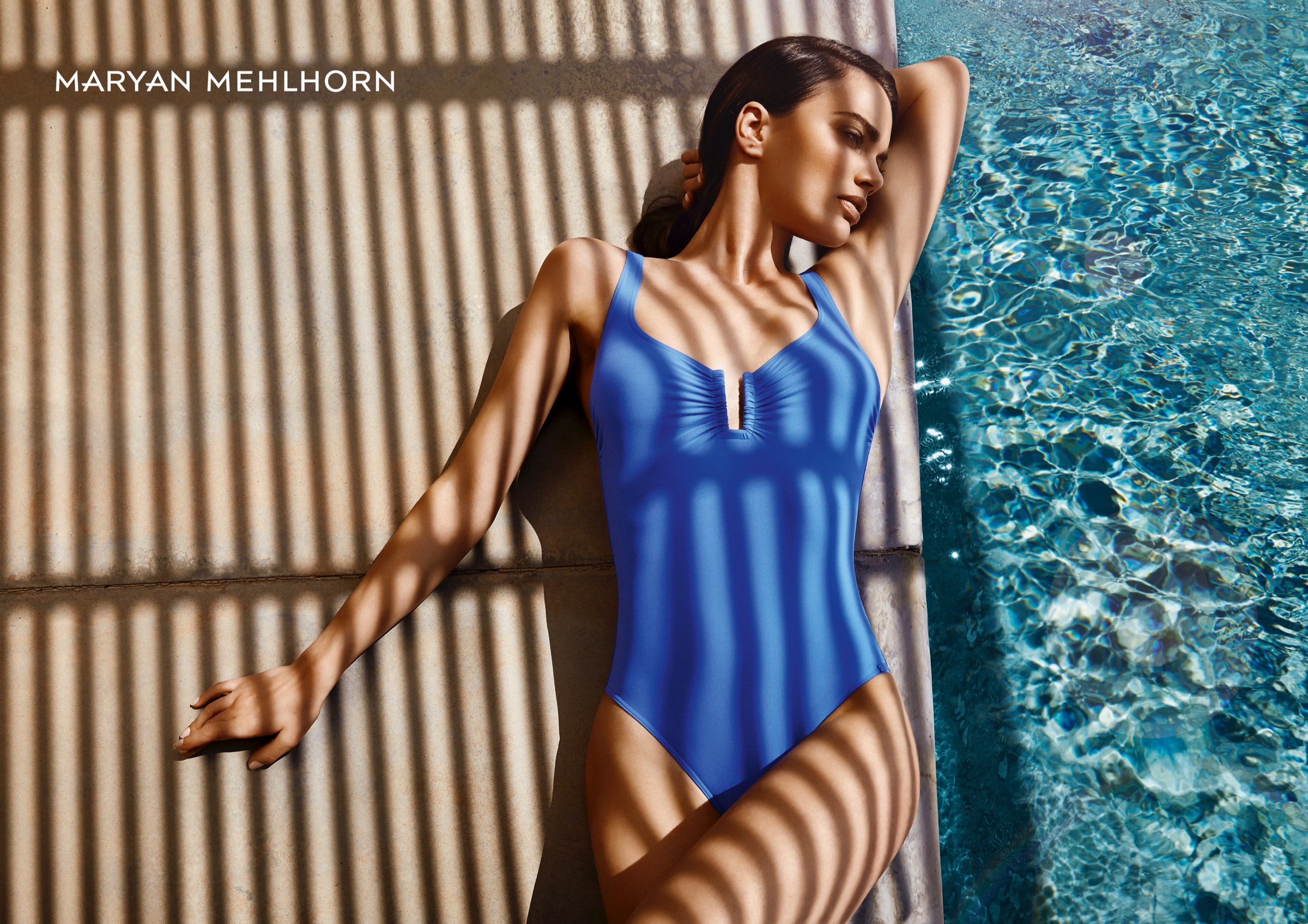 In summer 2017, the popular softline series features new high- lights, such as a surprising bandeau bikini and a new swimsuit that score with a U-shaped cut-out at the décolleté. The check pattern of the typical softline tucks in a one-piece swimming suit is an absolute novelty: the result is a striking 3D effect that imitates uniform wafer optics.